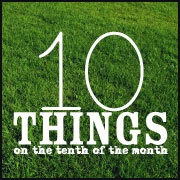 This is part of
Shimelle's
10 things on the 10th of the month which came about as part of her Beyond Blogging for Scrapbookers. I missed last month, but hopefully this post has been autopublished!!!
I thought for this month, as I am in Paris I would do 10 things I hope to see and/do in Paris:
1. Climb Eiffel Tower (or take the lift)
2. See L'arc de Triomphe
3. Visit Notre Dame
4. Take a cruise on a Bateaux Mouche
5. See the Mona Lisa in the Louvre
6. See Pompidou Centre
7. See Rodin's The Thinker
8. Visit Sacre Couer
9. Visit Disneyland (this one is really for Andrew)
10. Have a glass of wine and watch Paris pass by.